When considering the differences between a 3 season porch and a 4 season porch and deciding which type of addition you want for your home, you first need to decide what is your main objective; is resale a reason, how much will it be used, do you plan on eating dinner in there or is it where your entertainment center will be placed, or will this be a room where you want to feel a breeze and look out at your yard? All these things need to be taken into consideration when choosing between a 3 season and 4 season porch.
A 3 season porch is often just a 1 season porch in Minnesota! These porches are built to enjoy when the temperature is nice. 3 season porches are built with storm windows or 1 pane sashes. Insulation is rarely used and the floor can be decking material or outdoor carpet.
3 season porches can be planned out very well so that when finished, they can be easily converted to a 4 season porch in the future. The conversion is inexpensive AND less work. What you can do to make the conversion easier is, insulate the ceilings, floors, and half walls; as well as installing proper footings (these will be inspected by the city to ensure correct installation). A 3 season porch can be a great investment.
A 4 season porch can be a great addition to your home. This room, when completed, is used more than any other type of addition; and, with good design, will give you 85% return on your investment. Designing this type of room with tongue and groove, faux paint, wood, or stone can bring your addition to life.
4 season porches are fully insulated with R-19 walls, R-38 ceilings, and R-30 Floors. Most of the time they are built on 6×6 post with footings, however, a foundation with a slab is also an option but may be more expensive because anytime you attach anything to a structure (your home) you need footings, so a concrete slab requires a full foundation.
Check out this before and after!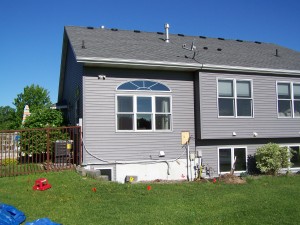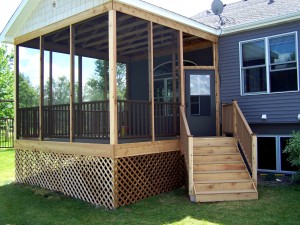 Give Advanced Home Improvements a call for a FREE estimate on your porch, or any upcoming projects you may have!!