Last month we posted about how easy it can be to install a new bathtub in your home. Not only does this small remodel improve the appearance of your bathroom, but it also improves the health of you and your family.
Here is a before picture of the bathroom we remodeled with the bathtub insert, showing the disturbing mold issue that occurs in most households without people even knowing about it.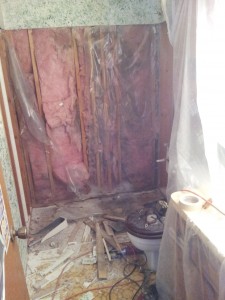 Did you know that when you use your bathroom and disturb the moldy areas, microscopic spores are released into the air?
Many health problems can occur if this goes untreated. Some of the mild issues include: headaches, eye irritation, respiratory problems, and skin rashes.
The photo above shows what we consider to be a major mold problem. Had this bathroom gone untreated, the mold could have lead to more severe health problems, such as: memory loss, chronic fatigue, debilitating headaches, shortness of breath, heart palpitations, and in extremely severe cases cancer and even miscarriages!
Advanced Home Improvements knows that maintaining a safe and healthy environment for your family is your number one concern. Here are some things you can do to prevent the buildup of mold in your home:
Open your windows or install an exhaust fan in your bathroom to keep the air circulating
Use a dehumidifier to control the humidity
Clean your bathroom daily with bleach or white vinegar (the acid in vinegar kills up to 99% of bacteria, don't worry about the smell, it will dissipate within a few hours)
Keep the temperature of your bathroom in a range from 66-71 degrees Fahrenheit
Keep the humidity levels between 29-49%
In most cases a complete bathroom remodel is not necessary, however, you can have just a few areas fixed to eliminate a high percentage of the mold and alleviate this hazardous risk. Unfortunately, in certain situations, a full bathroom remodel is the best way to fix any and all of your mold problems. With the new products that are available it won't be an issue again.
Here is the same bathroom pictured above; mold removed, and new bathtub insert installed.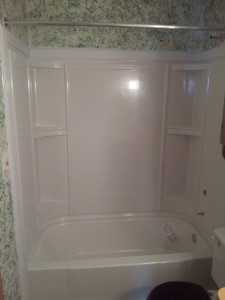 This family took the steps necessary to ensure the health and safety of their loved ones, and so can you!