As a homeowner, you may wonder, when is it time for me to get a new roof?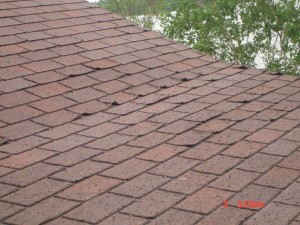 There are a few things to take into consideration; the age of your roof, are you selling your home in the next few years, do you notice any leaks, and has there been any potential for storm damage recently.
If you notice that your roof is just plain looking old and worn out, or if your neighbors happen to be replacing their roofs (and your homes were built around the same time), it may be time to replace your roof. Some signs to look out for are: curling shingles, cracked shingles, and bald spots where granules are missing.
Are you planning on moving in the near future? If so, and your roof is looking old and outdated, a new roof can give your home just the right amount of curb appeal it may need in order to sell. Remember, the first impression is the most important, and one of the first things a potential home buyer will see is the roof.
Have you noticed any areas in your ceiling that appear to be getting wet? Then you may want to have your roof looked at. Water leaks left untreated by roof damage can cause a whole lot more problems, and may end up costing you more money in the future.
With the terrible weather we have had in Minnesota the past few years, our homes have taken a beating. You may even have damage that you don't even realize because it hasn't become a problem yet. Let us give you peace of mind and come inspect your roof for you. Hail or wind damage gone untreated can lead to many more problems in the future; especially with winter coming.
If you suspect that you may have storm damage, don't wait! Call us for a complimentary inspection!