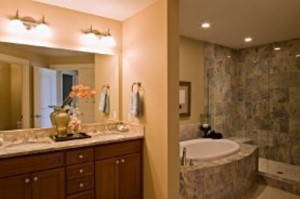 When you think about remodeling your bathroom, the obvious factors that come into play are: what color to paint the walls, what kind of tile do you want, what needs to be replaced, etc.
Here are some other things to keep in mind when you have a contractor come out to your home to provide you with an estimate to remodel your bathroom:
- Who is the primary user of the bathroom (kids bath, master bath, guest bath, etc.)?
- What do you like about your current bathroom?
- What don't you like about your current bathroom?
- What is the theme of your bathroom?
- Do you want more outlets?
- How about the lighting?
- Would a higher toilet seat be better?
Along with these factors, you may also want to keep in mind what is currently trending in bathroom designs. Some things we are noticing are:
- Large glass walk-in showers with no doors
- Sun filled rooms (skylights offer natural light when you're getting ready for work in the morning)
- Larger tiles for the flooring
- Heated floors
- Jacuzzi tubs are being replaced with soaking tubs
These are just a few things to consider when preparing for the first meeting with your contractor to remodel your bathroom.
Check out our project gallery for more ideas on how to remodel your bathroom, and contact us to receive a free estimate!