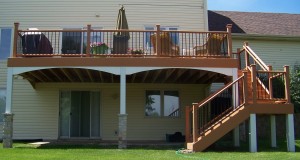 "A deck is described as a platform structure with no roof over it. I prefer to describe a deck as an outdoor entertaining area; bringing friends and family together to a place where memories will surely be made."
-Jeff Tatur
According to Remodeling Magazine, a deck can give you the highest return on investment of any home remodeling project. For example; a Cedar deck measuring 16ft x 20ft can cost an average of $12,100. The resale price for that same deck is an average of $8,800. This means the percentage of your return investment is well over 50%!
While adding a deck to your home is a wonderful investment; there are many other benefits that come along as well. A deck adds character and a certain sparkle to what can sometimes be an dull and dreary backyard.
Imagine your future deck…a place to hold birthday parties…a quiet escape from your busy household…a view of the sunset on a warm summer night; the memories are endless.
While a deck can bring a lot of pleasure and vivaciousness to your home, as a contractor being in business for almost 20 years, we feel it is our duty and responsibility to educate homeowners on the potential dangers that come with having a deck.
Did you know that in the past 5 years, 17 deaths and 350 injuries were reported in connection to decks failing? These decks fail because of improper construction and contractors who neglect the small details that can often be the most important. For example; if you use galvanized hanger nails instead of triple coated zinc nails, the nails will literally rot in the joist causing the joist to let go within a few years. That is a scary fact and a small detail that cannot go unnoticed.
Installing quality decks and understanding how the manufacturer specifies them to be built is something we pride ourselves in knowing; and also provides you with peace of mind knowing that your deck will be built to its fullest warranty and value with unsurpassed quality and satisfaction.
At Advanced Home Improvements, we can assure you will be enjoying your deck for many, many years to come; creating memories that will last a lifetime.
Contact us for more information!